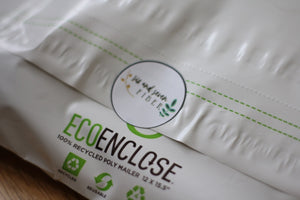 In an effort to reduce waste, we are now offering a Simplified Shipping Option! 
We usually pack each order with a paper thank you note, a teabag, a business card, and a paper or plastic wrapping around the yarn.
If you choose the Simplified Shipping option, we'll cut out that extra packaging and will only place the skeins you ordered into your mailer. 
As always, our mailers are made of 100% recycled plastic, so your yarn won't get wet while en route! They also have a second sticky strip to make it easy to reuse your mailer.
Note that all mini sets will still come in plastic bags to keep the sets organized neatly as they ship.